Need a Reliable Excavation Service?
We provide a range of excavation services to residential, commercial and industrial clients in the Greater Toronto Area and surrounding areas. Our team is dedicated to providing exceptional services and maintains the highest level of safety along with creating a productive environment.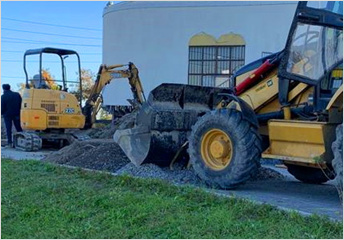 Our Excavation Services include but are not limited to:
Low rise
Bulk excavation
Detailed excavation
Site preparation
Grading
Trenching
Electrical utility
Sewer Installation & Upgrades
Water Main Installation & Upgrades
Don't hesitate to contact us with questions. We'll gladly provide a free consultation on our processes, capabilities and how can we help you achieve your excavation goals.
SPEAK WITH A PLUMBER
Before we send someone out to inspect your site we'd like to have a phone call to ensure we can help. Please click the button below to schedule your callback or call us directly.

When working with us you receive:
Complimentary Phone Consultation
Expert, Licensed Plumbers
Exellent Customer Service
Upfront Pricing
Service from a 5 Star, Award Winning Company
Water was coming into the bedroom of my furnished short term rental income property. It was important to get it fixed quickly between guests. I did not want to dig up the front of the house at the beginning of our busiest season. Canadian Rooter responded quickly and gave me the best quote and the fastest service! I picked them from a newspaper ad and was a bit dubious. They did tell me that the best way was to dig from the outside, but I could not do that at this time of year. The crew was great, very clean. Walter, the foreman, kept in communication. They were professional and provided me with licensing papers. The work was done quickly and looks very good. They had to dig down through the basement concrete floor which necessitated removing drywall, studs, insulation. They installed weeping tiles, a strong membrane, redirected a problem drain. They do not replace drywall and studs, etc., but referred me to Ivan, a carpenter/handyman colleague who is doing an excellent job as well. Great service! I would highly recommend Canadian Rooter and will use them again. In my furnished rental business, I am often asked if I know good trades people. I will use this site for referrals! I did not know it existed until now. Thanks a lot!
- Paula

Very professional and quick! We had a flood in our basement and found out it was the result of sewer back up and foundation leek. These guys came in right away and started working immediately. They were extremely neat and tidy; they showed up at 7:30am and didn't leave until 7pm. There is now no leaking at all and I would very highly recommend using them!
- John W.

The Canadian Rooter crew came into my house to fix existing waterproofing that was made wrong. Foreman explained to me everything that was done wrongfully, and promised to do the job right and on time. He also understood my situation, and expenses that I had to suffer, and didn't charge me as much, as in other estimates. The guys did their job very professionally; they organized their time properly, and left their place clean after they left. THANK YOU Canadian Rooter!!!
- Grom

Had a leaky basement that could not be waterproofed from exterior, so I called Canadian Rooter for an interior solution. They answered by questions and came in immediately to waterproof the side of my basement and installed a sump pump. So far so good. Quick and easy and gave me a competitive price as I received three quotes and negotiated price. Very happy with the service. Thanks
- Ren