Water Main Replacement & Installation
Just as any pipes, water lines age, corrode, rust and develop leaks. These malfunctions will often manifest in low water pressure, foundation leaks, and sometimes even more hazardous situations like cracking of basement concrete and heavy flooding.

If you experience any of the above or feel like your main water line could be underperforming it's likely that time has come to replace it.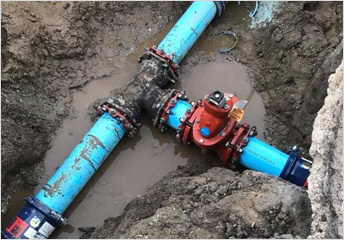 If you're not 100% sure it's the water line issue per se, our specialists can inspect the problem to make sure it's really the line causing trouble before any significant work begins.

As GTA's local Water Main specialists we specialize in residential and commercial Water Main (Line) Installations, Replacements, Repairs, Service and Assessments and over the years helped 100's of Toronto Homeowners replace or install the main water pipes with top quality and in time and cost efficient way.

Take advantage of our complimentary, no-obligation estimate (includes an in-depth expert consultation) to see what options are available to you.

In general, there are two types of replacements – excavation and trenchless.
Excavation
With this type of installation, we carefully excavate the needed area and proceed with line replacement. After the install you're lawn or the area excavated will be returned to its original and in most cases even better condition.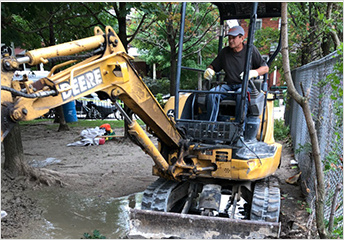 Trenchless
Trenchless is a No-Dig installation method in which a torpedo is launched underground with your new line. No digging is required! While this method is popular, it's not always possible as your soil type, trees on property, and other elements can obstruct the installation (underground).

Once we assess your property layout, landscaping, trees in your yard, distance from City connection, etc. we can recommend the best option for your particular situation.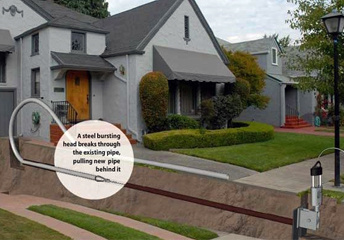 SPEAK WITH A PLUMBER
Before we send someone out to inspect your water lines we'd like to have a phone call to ensure we can help. Please click the button below to schedule your callback or call us directly.

When working with us you receive:
Complimentary Phone Consultation
Expert, Licensed Plumbers
Exellent Customer Service
Upfront Pricing
Service from a 5 Star, Award Winning Company
I was very happy with the service provided. My water main was broken, they installed a new one. Very fast and good service. The men where all polite and professionnal. They did the work as promised on time, and even cleaned up the work site before they left !
- Jacques

Thank you to Canadian Rooter the great team of workers and Naz the manager. The company upgraded my water service and back up value fast and very professional at a very competitive price. They cover all plants and lawn and filled the holes after completing the work. This company has my total trust.
- Mark

Our experience with Canadian Rooter was terrific. We had a water line leak in the delivery pipe in 100ft distance between city pipe and our house. We had previously hired another contractor who replaced a small section and assured us things would be fine. They were not, and a second leak & flood developed. John to the rescue! He told us we had been swindled and explained why & how he would replace the pipe in its entire length, do minimal damage to the lawn, not disrupt the foundation wall or concrete walkway, and protect our interior finishes. John was very patient and informative. His crew was early, hardworking, courteous and tidy. It was a big job, done in a very prompt, efficient and neat manner. Our experience was very positive, and we would not hesitate to recommend this company.
- B. Holland

George was very helpful and explained the situation clearly. He was willing to come on his day off on the long weekend and figured out a way to do the work the most efficient way. There have been no further problems.
- Joselyn

From the initial visit great care was taken in finding out where the water was coming from and it was difficult to find. Once found, they took the time to explain what was needed and address all questions/concerns thoroughly. The crew led by Andrew was very impressive, they worked hard did a thorough job, completed the job on time, and left the site in good and tidy order. Bottom line, the outside pipe was replaced and our basement is dry! I will call them again without any hesitation for any future plumbing issues that may arise.
- Barbara

I was asked by the City of Toronto to have my water pipe changed from galvanized pipe to copper pipe. I called them and Mike & his crew were very professional, courteous and experienced. They did a fantastic job and were also very clean and cognizant about keeping everything clean & tidy while they performed the job. The job was well done and on time. I would highly recommend them to my friends and family. Thanks Canadian Rooter, Mike and his crew
- Arthur