Backwater(Backflow) Valve Installation
Basement flooding is typically caused by heavy rains, melting snow or damaged pipes. But the most damaging and annoying reason for basement flooding is sewer backup. This happens when sewage from sewer lines, for some reason, can't flow naturally into the sewer and begin to flow back or back up into your house. Sewer water is dirty, foul-smelling and teeming with all sorts of harmful microorganisms. Sewer backups will not only damage your property but also put to risk your health and your family's safety.
How Does a Backwater Valve Work?
Backwater valves play a crucial role in protecting your basement from flooding. The valve blocks incoming water from coming back up your sewer lines.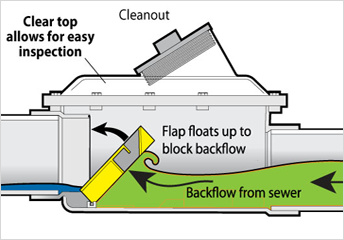 Our Backwater Valve Installation Service Comes with:
Property Gounds and Slope Inspection
Free Consultation & Installation Options
Free, No-Obligattion, Installation Estimate(during reg. hours)
Complimentary Permit Assistance - Valued $250 (Unlike other companies, we'll wave our plumber's fee for attending the City Hall to process your permit application)
Help and Instructions for Claiming the City Rebate
A Formal Warranty
Cost:a backwater valve can cost anywhere between $1,600 and $4,000. This largely depends if it's an inside or outside installation, how thick is the concrete, will there be a sump pump, and few other elements. Please contact us for yourcomplimentary inspection and estimate and we'll be glad to assist you.
Rebate:most municipalities offer some type of basement flooding protection rebate. For example, in Toronto the complete protection rebate covers up to $3,400. In Markham, up to $10,000. As part of our installation service we will provide instructions and details about how to claim your rebate.
SPEAK WITH A PLUMBER
Before we send someone out to inspect your drain lines we'd like to have a phone call to ensure we can help. Please click the button below to schedule your callback or call us directly.

When working with us you receive:
Complimentary Phone Consultation
Expert, Licensed Plumbers
Exellent Customer Service
Upfront Pricing
Service from a 5 Star, Award Winning Company
AMAZING service & results! We had a sewer backup, the city wouldn't help without a 'proper access pt' and a previous plumber who cracked our toilet tank. Mike came out to investigate w/ camera, snaked the drains, helped us understand our options, talked w/ the city on our behalf, had the cleanout w/ back-water valve installed the next day & went out of his way to get us a new toilet (at cost) & even installed it for us FREE when the other guy wouldn't even come back to look. We have already recommended Mike & Canadian Rooter to friends & family. This company really came through for us!
- Michelle & Mark

A sewage backup required emergency work, inside and outside. Naz came out to assess the plumbing situation and had a crew there quickly. The front lawn was dug up and the clog located and repaired. A backup valve was installed and the hole filled in. Because a large tarp was used, the lawn looked the same after the work was completed. Efficient, speedy, friendly service with explanations along the way to satisfy our questions. Because of two major flooded basements from rain storms, a waterproofing of the basement was required. Naz was called again. Again his crew arrived on time, completed the work quickly, protected the work site, and cleaned up well afterwards. They even changed a corroded downpipe that was not included in the original estimate,. I was totally satisfied with both projects. Well done Naz, Walter and the others!
- Bob

After having the sewer back up last year, we were not willing to live that nightmare again. The guys put in a back flow valve and sump pump. All the staff were very professional. They showed up in a timely manner. I highly recommend this company.
- Cathy

Exceptional Service, second to none! My family was devastated due to numerous basement flooding each time it rained this spring. Mike came to the rescue and offered solutions to our problems. Each time they did a project, his team was efficient, courteous, and professional. Mike walked us through the specifics of installing a sump pump and waterproofing. He ironed our worries gave us peace of mind. Our sump pump works efficiently. The landscape at my front garden was exactly the same before the excavation. As if no one stepped on it! They really clean after their debris. That big job was done in two days. The quality of their work is outstanding. Their attitude is great. Nick fixed the leak on our meter working around the time slot when the city could shut off form the city's main line. I recommended Canadian Rooter to my neighbour and she called Mike the next day. She was also happy about the service (sump pump), and called them for another project. I am a very satisfied customer!
- Josie